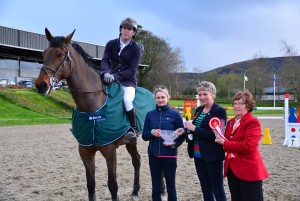 Tipperary man Liam O' Meara remained cool and calm in Millstreet this afternoon to claim the Millstreet International Welcome Tour Grand Prix title after a thrilling competition.
Twenty eight horses came forward for the feature class, all vying for their share of the €5,500 prize fund and the first round claimed its fair share of victims. Thirteen combinations produced faultless performances over the Olaf Herrmann (GER) designed course to go forward to the second round – leading to one of the most exciting Grand Prix to grace the Green Glens Arena in recent years. With the lead changing three times, Dublin man Daryl Walker (Cushions) thought he had done enough to take the title after ten horses, knocking over a second off the time of leading International event rider Michael Ryan (Ballylynch Wizard). However, the second last competitor into the arena changed everything and when Liam O' Meara entered with Mr. Coolcaum (ISH) (Coolcaum Hill) the gathering crowd realised that things were about to change again. O' Meara navigated a course that no-body had thought was possible, making an even tighter left handed line from an imposing vertical to an oxer to break the finish beams at 40.46 seconds. Galway-based Jessica Burke (Vitesse) gave it her best but an unlucky pole on the floor ensured that victory went to O' Meara, the current leader of the HSI, Connolly's RED Mills Spring Tour.
Earlier in the day, the Main International Arena hosted finals for the 5, 6/7 year old classes with the top two combinations in each class receiving automatic qualification for the Millstreet Ruby and Boomerang Finals that will take place during Millstreet International Horse Show CSI*** in August 2015. The early start didn't bother Madeline Roberts Allen with Brookpark Vito (ARS Vivendi) who completed just ahead of Ger O' Neill with Sharon Fitzpatrick's Keatingstown Zwellie One. In the 6/7 year old class, O' Neill put in another strong performance with Jim O' Neill's Castlefield Gucci but it wasn't enough to beat Australian visitor Jake Hunter who took the honours with Sandra Duffy's Kenco.
The 2015 Millstreet International Welcome Tour concludes tomorrow (Sunday) with the second of two Eventing Ireland One Day Events. Over the past nine days of competition, just over 5,000 entries have been received; demonstrating the demand for the flexible competition format and range of classes at the beginning of the competition year.
Final Results from the Millstreet International Welcome Tour CSI* Grand Prix can be found here.
Results from all classes available here.
Photo: Geraldine Dennehy