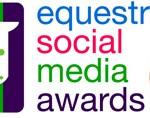 Millstreet Horse Show are delighted to have made the final list of nominees in the 2014 Equestrian Social Media Awards.
Established in December 2010, the Equestrian Social Media Awards (ESMAs) bring together the global equestrian community through social media. Millstreet is nominated in Category 9: Best use of social media by an Event/competition.
With over 6,000 fans on Facebook, a growing collection of video material on YouTube and an active presence on Twitter, Millstreet Horse Show continues to embrace the social media community; from keeping users up to date with developments at the Green Glens Arena to publishing videos from the archives and posting live updates during each show. In 2013 we expanded our online coverage to include live video streaming from the Main Arena during our CSI*** show in August and with a record three international shows coming up this year, (including the European Pony Championships) we aim to bring our social media activity to the next level.
Millstreet's website and social media activity are co-ordinated by Tadhg Ryan (Media Manager, Millstreet Horse Show). "It is great to see Millstreet nominated alongside some of the biggest equestrian events in the world. Our online activity on Facebook, Twitter and Youtube is continuing to develop and I must thank our growing community of followers and supporters who have played a major part in this."
Voting for the awards is now open and will close at 4PM on Friday 7th February. The winners will be announced on 24th February.