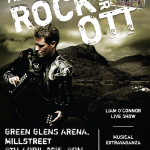 A Message from the Alex Ott Appeal:
Alex Ott suffered a serious spinal injury while exercising a horse last November. He has undergone phase one of his immediate treatment in Cork University Hospital and he is now in The National Rehabilitation Centre in Dun Laoghaire,
Co. Dublin undergoing assessment and intensive treatment.
Alex is a well known hunt enthusiast where horses coupled with all forms of equestrian sport were his life. Alex is a passionate horseman, skilled in all aspects of horse management and both he and his partner Janet run Gooseberry Hill Horses. He has four young children Zara, Andy, Luke, Ella all active pony riders within Duhallow.
There are many events running to support this very popular family man and on April 8th 2015 @8pm we are having a Gala Show by the world renowned Liam O'Connor Musician and team who will "Rock for Ott" in The Green Glens Arena, Millstreet, Co. Cork.
This is an evening of magical entertainment and a night to remember. Surprise Celebrity guests will be present to give their support so Trot for Ott to Green Glens where you can "Rock for Ott" your support and donations to date are truly valued and on 8th April you too can make a real difference in 2015 for one of
our own.
Tickets are €30.00 each and as there will be heavy demand for same you are advised to book early to ensure you are not disappointed!!!
Tickets can be purchased online and from local outlets.